Sometimes it can be so difficult to write.  I look for inspiration in the world around me.  In little things a friend says or hearing the laughter of a stranger in the store.
There is so much in my heart to say, and yet it doesn't gel into a clear story to tell, or a thought that would lift others higher.
 Yet my writing can seem so
 fruitless at times.
There is no Erato to ag me into a creative bliss.
I search The Word for answers, for inspiration, for insight, for a moment of intimate oneness with the one who knows me through and through.
"Though the fig tree should not blossom, and there be no fruit on the vines, though the yield of the olive should fail, and the fields produce no food, though the flock should be cut off from the fold, and there be no cattle in the stalls, Yet I will exult in the Lord, I will rejoice in the God of my salvation." (Habakkuk 3:17-18 NASB)
In the beginning of chapter three of Habakkuk it tells us that this a prayer of Habakkuk according to Shigionoth.  It is praise and worship that is done with Wild Passion and a rapid rhythm.
Habakkuk's prayer is done in a highly emotional, loud, hands clapping worship service – perhaps a service of one.
So today I Shigionoth with my Lord, who is the Lord of the Dance, in whose arms I am not afraid, because in Him all things are, Yes, and AMEN!
My gift of writing has always been to His service and, when the time is right, He will pull forth from me the treasure that He has invested into me from the beginning of time.
Worship, not because He needs it, but because I need it.  I need to confess who God is in my life.  He is the author and finisher of my faith, my stories, my future.  And if I were honest, it never was mine, it is always His.
So today sister, crank up the music with me, let us Shigionoth!
~1000 Gifts and counting~
~For the sound of Joseph coming in the door
~For a email from a friend who moved away
~for warm sweaters and fireplaces
~for safty in bad traffic
~for a phone call that all is well
~for pink polish
~for chicken and dumplings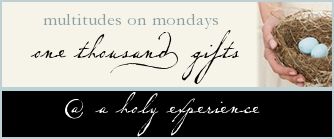 The following two tabs change content below.
Diane W. Bailey is the founder of The Consilium – an online community of wisdom and purpose for women over 45 years of age. She is a published author. Her books include
String of Pearls – From Tears to Treasure
, and
30 Days To A Better Stepfamily
. She creates her own line of
precious metals bracelets
. Diane lives in the Deep South with her husband Doc. Together they have created a stepfamily, each having two stepchildren and two birth children, and share three grandchildren, one black lab named Charlie and one long haired tabby cat named Lil Girl. Diane's passion is to encourage women to be all God has created them to be by pressing past fear and daring to live life as an adventure. Some of her life adventures include traveling to Israel, speaking, entrepreneurship and backyard farming with Doc. She loves Gumbo, fried shrimp and seeing all sunsets across water.
Latest posts by Diane W. Bailey (see all)