Quietly she walks in and we don't notice at first.  She seems like just a breath of air and no one notices where it comes from.
The flowers take notice of her and dress in their very best.  They dance in the rain rejoicing at her arrival.
As spring comes out of her place of hiding bearing her new birth, and new life, man goes into his place of temporal withdrawal.
We limit our souls and feed our spirit. 
As the sap pulls into the roots for nourishment, our souls pull into our spirit searching for nourishing revival in the one who breaths into us life.
We sacrifice with delight, a pleasure of the soul to find greater delight and pleasure in the author and finisher of our faith.
 The one who is nourishment for our weary spirit, the new life for our soul.
It is the winter for the soul, so that new life can appear, beginning from the root where all life begins. 

Then like the entrance of spring brings forth new life, we rise and show the new life in us.  The one who makes all things new.

Lent, a time of pulling back for a renewing of the spirit, which brings forth a blooming of the soul.
For this reason I kneel before the Father,

from whom every family in heaven and on earth derives its name. I pray that out of his glorious riches he may strengthen you with power through his Spirit in your inner being, so that Christ may dwell in your

hearts through faith. And I pray that you, being rooted and established in love,  may have power,

together with all the Lord's holy people, to grasp how wide and
long and high and deep is the love of Christ, and to know this love that surpasses knowledge—that you may be filled to the measure of all the fullness of God.

Now to him who is able to do immeasurably more than all we ask or imagine, according to his power that is at work within us, to him be glory in the church and in Christ Jesus

throughout all generations, for ever and ever! Amen.

Linking today with Walk with Him Wednesdays and Word filled Wednesday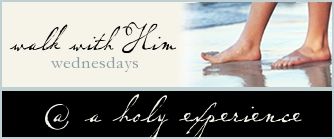 The following two tabs change content below.
Diane W. Bailey is the founder of The Consilium – an online community of wisdom and purpose for women over 45 years of age. She is a published author. Her books include
String of Pearls – From Tears to Treasure
, and
30 Days To A Better Stepfamily
. She creates her own line of
precious metals bracelets
. Diane lives in the Deep South with her husband Doc. Together they have created a stepfamily, each having two stepchildren and two birth children, and share three grandchildren, one black lab named Charlie and one long haired tabby cat named Lil Girl. Diane's passion is to encourage women to be all God has created them to be by pressing past fear and daring to live life as an adventure. Some of her life adventures include traveling to Israel, speaking, entrepreneurship and backyard farming with Doc. She loves Gumbo, fried shrimp and seeing all sunsets across water.
Latest posts by Diane W. Bailey (see all)