"Bear one another's burdens, and thus fulfill the law of Christ."  Galatians 6:2
The farmer's market is full this morning of sellers and buyers sharing the latest news, laying eyes on friends they have not seen in a "month of Sundays", and young children staring wide-eyed at the bends of fresh fruit and vegetables.
I go to Sheryl's stand every time I am at the market.  She and her husband own a Ga-zillion acres north of here and a bakery on their property.  When it is time to have the family in for Doc's birthday I always purchase his cake from her.
She smiles through misty eyes as she recalls a funny story about her son.   He died from cancer several years ago, but is forever young in her heart.  I can only imagine the sorrow she must go through missing him.  I love listening to her stories.
Further down the row is an older couple who brings in flowers and plants for your home or as a centerpiece for a table.  They are so cute together.  He was in the Korean War and has seen a lot in his day, some good and some stories of war that he would rather not talk about.  He built his own greenhouse for his plants…and for his bride of fifty plus years.
Old and young, black, white, Asian, Latino all gather at the farmers market, smiling and talking.
I love being around everyone on Tuesday, Thursday or Saturday mornings.  Some of the people I know and some I don't know.  Yet we all smile and greet each other with "Good Morning!" as we pass one another in the isle or stand near one another pouring coffee into Styrofoam cups.
All of them with a story they could tell of sorrow, or joy – or both.  Each one, despite the a wound to their heart, is reaching out and speaking, and encouraging each other.  And I see this, my community, all around me.
This is how part of my community looks to me.  There are circles inside of circles.  Circles of friends in different areas of my life, who stop and listen, share a laugh, share a prayer and know it is kept private.  In some cases it is a circle of people who are my second family and intersect with my family.  All of the circles are continually moving, touching each other, effecting and affecting one another.
One of the people I embrace in my blog community is Deidra Riggs. Deidra describes community the best.  She says,
"This heart, all tender and broken and split wide open, has been filled with breath and life and hope – hoisted on the shoulders of women who love well with bruised hearts of their own. " 
Would you bless me with a comment today?  Tell me about  your community, I would love to hear from you.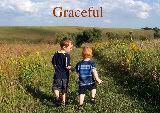 T oday I'm linking with the communities of  (In)courage and Michelle DeRusha.  Won't you join us?
The following two tabs change content below.
Diane W. Bailey is the founder of The Consilium – an online community of wisdom and purpose for women over 45 years of age. She is a published author. Her books include
String of Pearls – From Tears to Treasure
, and
30 Days To A Better Stepfamily
. She creates her own line of
precious metals bracelets
. Diane lives in the Deep South with her husband Doc. Together they have created a stepfamily, each having two stepchildren and two birth children, and share three grandchildren, one black lab named Charlie and one long haired tabby cat named Lil Girl. Diane's passion is to encourage women to be all God has created them to be by pressing past fear and daring to live life as an adventure. Some of her life adventures include traveling to Israel, speaking, entrepreneurship and backyard farming with Doc. She loves Gumbo, fried shrimp and seeing all sunsets across water.
Latest posts by Diane W. Bailey (see all)